Genre: New Adult
Series: Marked Men #3
Publication: January 7, 2014 by William
Morrow Paperbacks
Kindle edition 387 pages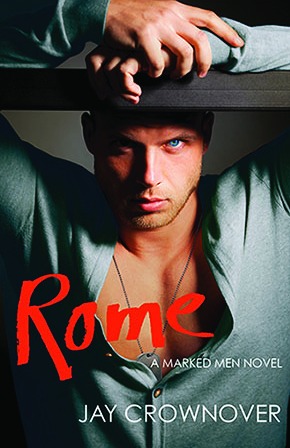 Sometimes the wrong choice can be just right . . .

Fun and fearless, Cora Lewis knows how to keep her tattooed "bad boy" friends at the Marked in line. But beneath all that flash and sass is a broken heart. Cora won't let herself get burned again. She's waiting to fall in love with the perfect man—a baggage-free, drama-free guy ready for commitment. Then she meets Rome Archer.

Rome Archer is as far from perfect as a man can be. He's stubborn, rigid, and bossy. And he's returned from his final tour of duty more than a little broken. Rome's used to filling many roles: big brother, doting son, supersoldier—but none of those fit anymore. Now he's just a man trying to figure out what to do with the rest of his life while keeping the dark demons of war and loss at bay. He would have been glad to suffer through it alone, until Cora comes sweeping into his life and becomes a blinding flash of color in a sea of gray.Perfect may not be in the cards, but perfectly imperfect could just last forever . .
Okay, I would like to start out by saying that this is the first book in the Marked Men series that I have read so far. Probably not best to start at book 3, but it's done now. So, I just have to catch up with the rest of the guys at some point in time.
Rome is retired military, and he is just trying to find a way to fit back into civilian life, and his old life, and he has struggles, of course. Cora is the manager at Marked, and she is also a piercer. Her and Rome have some words at a friendly get together at his brother's house, and like the "take no shit" person she is, Rome ends up with beer dumped over his head.
I liked Rome, the book, and the character. He is having a rough time, and he has the weight of the world on his shoulders. He's turned to the bottle to help him deal with his issues. When Cora gets a phone call at the tattoo shop to pick up a extremely drunk Rome, she has no idea what is coming her way. Rome is a super sweet and caring guy, once he gets past some of his issues. I loved him, I thought he was great.
I'm kind of on the fence about Cora. I just felt like Rome was giving her 100% of himself, mental and physical battle wounds and all, and she was just giving him pieces of herself. It wasn't really fair to him. But Rome, being the stand-up guy that he is, is trying his hardest to patiently wait for her. Then other times, she's trying her damnedest to be what Rome needs. She was kind of wonky, really.
I loved the guys in this book. They're all family, and they stick by each other, even when things start getting rough. I loved that about them. Brite and Rowdy were probably my favorite secondary character's. Brite was someone Rome never knew he needed, and helped him out tremendously.
All in all, I liked the book. It was a nice, fluffy, read. I will definitely be catching up with the rest of the boys, at some point in time.